Celebrate and Create – a New Year's writing exercise
I found this step-by-step writing exercise by "actors' advocate" Dallas Travers a few years ago and have found it to be a great way to review the past year and organize my thoughts looking forward. Unfortunately her site is under construction right now, so I had to find a cached version…and figured I'd post it here with my own tweaks for YOU to check out – and also for me to find it more easily next year! And you don't have to wait for New Year's – any milestone like a birthday or life change or just because you feel like it will do.
This is my variation on Dallas' classic "recipe" where I've adapted her words to my needs. Have fun!
Celebrate 2014. Create 2015.
This exercise allows you to take stock of the year behind you and acknowledge all the amazing things you accomplished. It will also help you to kick start the new year with excitement and vision.
Sit back, relax and get ready to Celebrate + Create!
PREPARATION:
Make yourself comfortable. Play some music you love, grab some yummy food or cup of tea, light your favorite candle. With a notebook, pen, and google calendar (or whatever you use!), begin your Year 2014 Reflection.
STEP ONE:
With your calendar handy, review the past year and consider what you are most proud of in each of the following areas of your life:
– Career
– Health
– Personal Relationships (family & friends)
– Professional Relationships
– Confidence
– Business Approach (marketing tools or mentality)
– Finances
– Craft & Creativity
– Personal Growth (investments you made in yourself)
– Spirituality
– and of course, Fun or Play (like traveling!)
These are geared towards actors so feel free to add your own categories or leave off ones that don't really apply.
STEP TWO:
STEP FOUR:
Consider what, if anything, you feel incomplete about. What actions can you take to tie up any loose ends?
STEP FIVE:
Finally, create a year-end ritual. How can you celebrate the challenges you moved through and success you enjoyed? How can you make a renewed commitment to yourself for the coming year?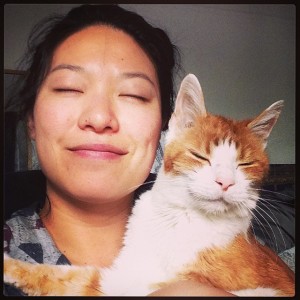 The year-end ritual can be a little break from the exercise. Have an impromptu dance party or hug it out, light another candle or burn some sage, have a snack or glass of wine, or all of the above.
Take a deep breath in thanking the year that's gone by and then out to welcome the year to come!
I hope you enjoyed doing this exercise and would love to hear your thoughts or see pictures of your vision boards in the comments section! Happy New Year!